Bonus Material: The Name Game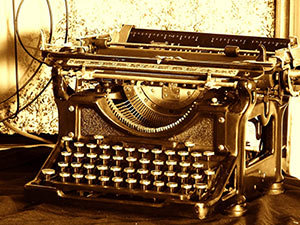 Character names are incredibly important to a story. Not only do I want the names I select for my characters to sound good and roll easily off the reader's tongue, but I love to give extra meaning to the names, perhaps a meaning that no one else will ever pick up on besides me.
I love using biblical names and historic names, but the real fun comes when I start playing with them. Sometimes the meanings connect to the novel's theme or some other deeper meaning, but more often they employ a play on words in a way that gives me a reason to smile even when working with these characters day after day.
Here are a few samples of my name play.
Photo Credit: alexkerhead via Compfight cc
A Tailor-Made Bride – Jericho "J.T." Tucker. Jericho hated his name, but it symbolized the walls he had built up around his heart. Walls only the lovely Hannah Richards could break down. Hannah Richards. My father passed away when I was 16, and I wanted to honor him in some way in my first published book. So I named my heroine after him. My dad was Richard Gaskin.
Head in the Clouds – Gideon Westcott. Gideon was a British nobleman who ran a sheep farm in Texas. Seemed fitting that a man who dealt in fleece would share the name of the Bible character who tested God with the same item. Adelaide Proctor. Adelaide was a teacher by trade, so I thought it would be fun to use a play-on-words for her surname. Proctor is synonymous with teacher.
To Win Her Heart – Levi Grant. I've always like the name Levi. It's strong, just like my blacksmith hero. And I thought it was a bit ironic for a man who had spent time in prison to be named after a tribe of priests. Eden Spencer. Eden was a garden of perfection before Adam and Eve corrupted it with sin. Eden Spencer was the daughter of the town founder, always in the public eye, always so careful to preserve her "perfect" reputation until Levi challenges her to move beyond appearances in her faith. She also surrounds herself with flowers. Pressing wildflowers and making art from them is her favorite hobby.
Archer Brothers – Travis, Crockett, Jim, and Neill are all names for heroes from the Alamo. You probably already knew this. But did you notice that the heroine who paired up with Crockett - Joanna Robbins in Stealing the Preacher, had a play on her name as well? Her father was an ex-outlaw who robbed stage coaches and trains. (Yes, I see your eyes rolling.)
Full Steam Ahead – Darius Thornton. Darius's family ran the company King Star Shipping. You might have noticed that the name Darius is a king's name from the book of Daniel. Well, I thought it would be fun to give the entire Thornton clan kingly names. Darius's brother was David. Their father, Saul. And though his sister and mother are not actually named in the book, I did have names picked out for them. Darius's sister was Esther and his mother was Candace, both biblical queens.
A Worthy Pursuit - I chose the heroine's name after a fan on Facebook suggested I should use her daughter's name – Charlotte. Since Charlotte Bronte is my favorite classic author and the name is a beautiful, historic name that would fit well with my prim headmistress, I did just that. I had a little more fun with the hero. He is a tough, loner type who had been making his own way in the world since he was a boy orphaned at an early age. Stone just seemed like the right name for him (even though he's gooey on the inside, like all good tough guy heroes). There is actually a play on his name inside the book where he is written into a dime novel under a not-very-well-disguised pseudonym – Stone Hammond becomes Hammer Rockwell in his dime novel debut.